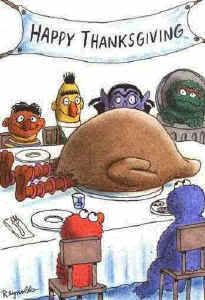 If you're Canadian, today is Thanksgiving. Happy Thanksgiving - eh. Hubby and I celebrated yesterday with our turkey dinner and a nice bottle of wine (of which I got to also enjoy thanks to AF).
And while we've had our fertility struggles, workplaces issues (like Hubby getting laid off), and our share of money worries (thank you global recession) - we also have reasons to be thankful.
I'm thankful that hubby and I are both employed and working for good people.
I'm thankful that we are smart with money and while the savings account has definitely dwindled this year, we are not in debt (except for the mortgage).
I'm thankful that we live in a country that offers healthcare for everyone.
And ~ I'm very thankful for my Hubby. He is truly the yin to my yang. In other words, where I get all worked up and stressed out, he stays relaxed and calm. He has truly been my rock while we go through infertility.
It would be so easy to get bogged down in my negative thoughts and feelings, but I know that there are so many people out there whose lives are not as easy as ours. When I start to get down I think of the poor people of Indonesia & the Philippines whose homes have been washed away by flooding. Or I think of the many people here in Canada or in the USA who have lost their homes during the recession. And when I think about my angel, and how tragic that loss was, I know that there are families out there who have lost more than one child.
So yes, I am truly thankful. While things are not 100% perfect in my life, things could be much, much worse.
I hope that you will all take a moment to reflect on the things in your life for which you are thankful.